ENCHANTED GARDENS
Like the world's finest manor estates, the grounds of Saisons are landscaped for blissful encounters year round. Make your grand entrance through a tree-lined promenade. Explore the regal beauty of the formal English Garden. Discover a French Garden reminiscent of the Tuileries. Relax amongst the soothing botanicals in the Japanese Zen Garden. Truly a full-sensory blend of culture and nature.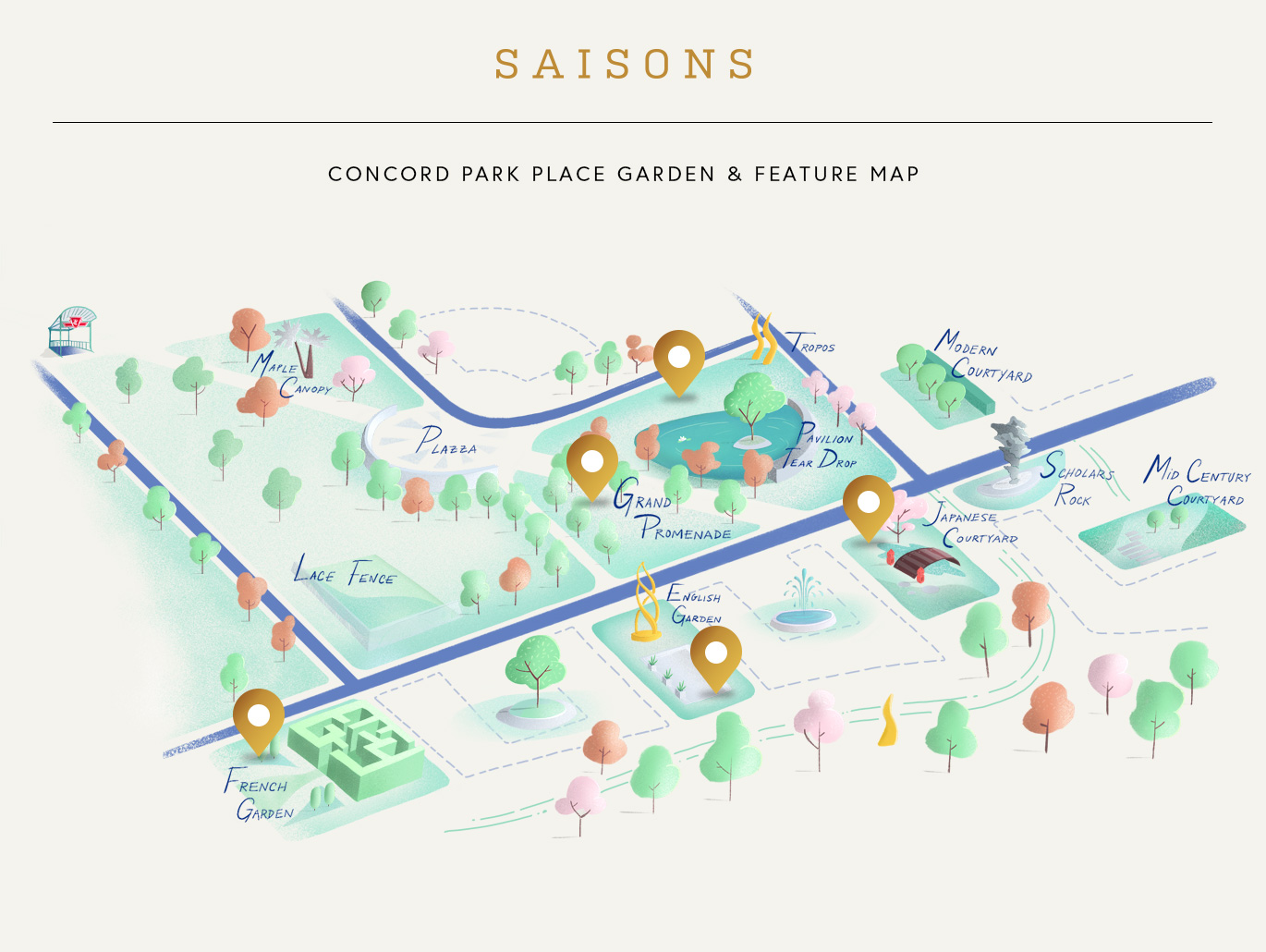 Summer Reflective Pond & Winter Skating Rink
Envision a park as vast as six football fields. Now picture living in nature's splendour. Eight acres of park space are at your door, an ever-changing vista of tree species, flower blooms and themed gardens. Joyful with song birds and butterflies. A four-season fantasy that transforms leaves into fairy lights and mirror pools into shimmering ice rinks.
grand promenade
Like the world's finest manor estates, the grounds of Saisons are landscaped for blissful encounters yearround. Stroll the grand promenade, winding the park under a canopy of trees lined with planted borders. Pause at the reflecting pond. Relax in the central piazza. Pass fields of green, then enjoy your favourite activity at the community centre.
japanese zen garden
Relax amidst this miniaturized paradise of tranquility, with spiritually-soothing botanicals and rockery. The sculpted terrain transports the soul to a broader landscape of seas, mountains and infinite horizons. Integrated seating along the "shores" provide places for quiet comfort and contemplation. Also visually accessible from the piano lounge and tea room, the landscapes are designed to celebrate the best of nature's seasonal variations from the comfort of the surrounding interior lounges.
english garden
Discover the regal beauty of a cloistered green framed by townhouse frontages, limestone garden walls, a dining area and children's terrace. A perimeter walkway circles a sunken green with broad, descending steps and flowering hedge borders. Limestone ridges and teak benches overlook the garden, adorned with floral urns set into linear steps. Face north and find a joyful statue emerging from the continuity of space.
french garden
This formal elevated terrace flows into western sunset slopes. A quaint footbridge leads to an entry forecourt. Interconnected passages wind the way to a privet maze and gargoyle fountain. A stone balustrade, columnar plantings and intricate lattices retain the soothing order and balance within, while a fresh-air dining pergola heightens the scenery and offers stunning vista views.
Initial concept by rendering artist.